Brave the Shave – The Photos
Thursday, July 23rd, 2015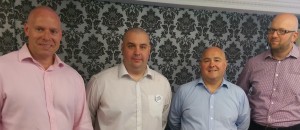 Well the day finally arrived and we are now Four Brave Shavers!
Despite protests from Simon, who constantly asked "can't I just have a little trim" All the hair on our heads, apart from John's beard has now been removed! Our thanks go to the staff at Maurices in Guildford, our new stylists; and of course to all our clients and friends for their generous support.
To date we have raised nearly £2,000 for Macmillan Cancer Support a fantastic cause, if you haven't contributed yet our Just Giving page is https://www.justgiving.com/InsuranceServicesSurrey
Thank you once again from all at Insurance Services Surrey for your fabulous support!